neon rain recordings :
MUSIK · GERÄUSCH · KUNST
die zeit und das geschehen aufzeichnen | to record time and what's going on
Blond Adonis (2005)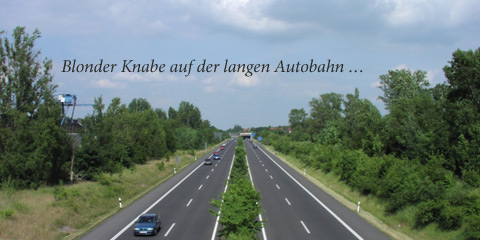 Ich bin der letzte Herrenmensch, die Pest aus Großdeutschland
Mein gerendertes Gesicht raubt jedem den Verstand
Durch ständige Updates bleib' ich so, wie's dir gefällt
Ich bin nur Schauspieler, meine Bühne ist die Welt
Blonder Knabe auf der langen Autobahn
Blonder Knabe auf dem Titel eines Magazins
Blonder Knabe auf den goldenen Straßen Cannes'
Blonder Knabe auf dem Fernsehschirm
Listen To The Song
Our version of "Blond Adonis" is included in the slight record's project "Meaningless – a dedication to the songs of The Magnetic Fields" and will be downloadable from their project website.
"Blond Adonis" was originally released by the Future Bible Heroes on the CD "Memories Of Love".
Production Notes
All instruments were played by Jens Kutilek. They were recorded on very crappy equipment back in 2000, and required heavy editing and equalizing. The vocals were re-recorded in 2005. The song was sped up because it was too slow in its original tempo, giving a strange effect on the sound.